LINDOKUHLE SOBEKWA
&
CYPRIEN CLÉMENT-DELMAS
DALESIDE
2015-2020
WITHIN THE FRAME OF THE OF SOUL AND JOY PROJECT
JOHANNESBURG, SOUTH AFRICA
Biography
Cyprien Clément-Delmas was born in 1986 and is a French photographer and film director. He studied at ESCAC, the cinema school in Barcelona (Spain). In conjunction with his photography, he directed several short films and documentaries including Luciano, a short fiction shot on 35mm and co-directed with Dani de la Orden which won numerous awards on the European festival circuit. Cyprien is also involved in several social projects. He led documentary cinematography workshops in prison for Audiovisuales sin Fronteras. Since 2015, he is a member of the Paris based production company Caviar Content.

---
Lindokuhle Sobekwa is a South African photographer and Magnum Photo nominee since 2019. Introduced to photography with the Of Soul and Joy project undertaken by Rubis Mécénat, he lives and works in Thokoza, Johannesburg, South Africa. In 2017, he receives the Magnum Photo­graphy and Social Justice scholarship, with the support of his two mentors and active members of the project Bieke Depoorter and Mikhael Subotzky, both members of Magnum Photos. In 2018, he is awarded anew by the Magnum Foundation for Nyaope, a series tackling drug use in South African townships. Since 2012, his works have been shown in South Africa, France, Netherlands, Norway and Iran.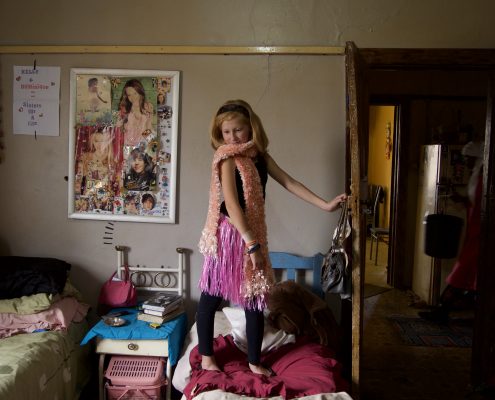 More information
Since July 2015, thanks to Rubis Mécénat's support, French photographer Cyprien Clément-Delmas and South African photographer Lindokuhle Sobekwa have been collaborating to develop a photographic series reflecting the everyday life of the people in Daleside, an Afrikaner suburb near Johannesburg, South Africa.
Daleside is a forgotten Afrikaner suburb, in which gradually grown in the minds of its inhabitants the idea of decline and abandonment. The order and the opulence of this perfectly geometrical urbanization no longer exists. Daleside is a shadow of itself. A huge abandoned open mine delimits the end of the district. It is neither very poor nor very rich. It is neither spectacular nor sensational. The people seem to be very ordinary but they are not. They are quiet witnesses of the changes in the country.