© Cyprien Clément-Delmas. La fuite, Amsterdam 2010
VIEWPOINTS
Cyprien Clément-Delmas
Galerie Nikki Diana Marquardt, Paris, France
"Viewpoints" is an exhibition of the work of French photographer and film maker Cyprien Clément-Delmas. The exhibition presents Into the east, a series on Eastern Europe where Clément-Delmas travelled between 2008 and 2011, and Luciano, a short film co-directed with Dani de la Orden which has been awarded prizes at a number of festivals.
Cyprien Clément-Delmas presents an ambitious documentary project which takes humankind as its subject.
Viewpoints – Cyprien Clément-Delmas,
Nikki Diana Marquardt Gallery, Paris, November 2011.
Video by the artist.
Biography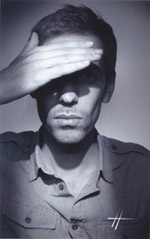 Cyprien Clément-Delmas (born in 1986) is a French photographer and a film director.
He studied at the prestigious film school ESCAC in Barcelona.
His photographs have been exhibited at the Kowasa Gallery (Spain), at the Nikki Diana- Marquardt Gallery (Paris) curated and organised by Rubis Mécénat. Alongside, he has directed several short films and documentaries.
Luciano, a 35mm short film, co-directed with Dani de la Orden, won several awards in Europe. He is also involved in social projects. He led documentary workshops for Audiovisuales sin Fronteras for prisonners in jail.
He is currently a member of the Caviar Content production company in Paris. Clément-Delmas is an active photographer and advisor of the Of Soul and Joy project. Rubis Mécénat and Clément-Delmas have worked closely for various commissions since the creation of the fund in 2011.
Short film Luciano
Luciano
Short film
35mm – 11min
Directed by Cyprien Clément-Delmas & Dani de la Orden
Barcelona 2010
Producer : Andrea Puig
Director of Photography : Charlotte Dupré
Luciano is a simple and touching story, like its protagonist. It is a portrait of the love we have for our close friends and family, and of our burning desire to make them happy.
Awards:
Cameo Award for Best shortfilm
Filmin Award for Best shortfilm
& more than 50 awards and selections in Europe